Published on October 23, 2005 in Firefox
I have updated the Rapid Web Development with Mozilla Firefox presentation. Changes include the following:
A minor change to the way the document is laid out. The presentation has been split up into coding/testing extensions, bookmarklets, and extensions designed to replace/compliment desktop development tools.
The addition of pages and links to the following extensions: Accessibility Extensions for Firefox, Add & Edit Cookies, CodeTch, MozImage.
The addition of links to the following extensions: Accessibar, Firefox View, Inspect Element, Opera View, View Cookies.
The removal of the Zoomy extension. Zoomy is not really a developer extension but more of an enhancement to Firefox's user interface.
Added a page about bookmarklets, including the Slayer Office Favlet Suite.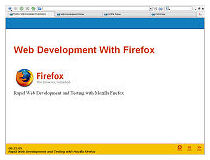 A French translation has been created from the original version. See this article at Framasoft.
Note: As Mozilla Firefox 1.0.7 is still the official version of Firefox, several extensions that are currently not compatible with the new Firefox 1.5 beta are still included in the presentation. At the time of this writing the following extensions will not work, out of the box, with the new beta: Add & Edit Cookies, CodeTch, Inspect Element, Live HTTP Headers, Opera View, View Rendered Source.
Original Post: Rapid Web Development and Testing with Mozilla Firefox