Published on August 22, 2005 in Design, Firefox
See this post for information on an update to the presentation.
As an aside to some beginning web development training sessions I have been working on, I have created a "Rapid Web Development and Testing with Mozilla Firefox" presentation. It is a given that successful web development requires certain essential tools. One of the best tools, I know of, available for web development and testing is the Mozilla Firefox web browser.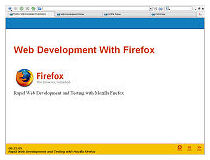 The slide show is a basic overview of Firefox's built-in web development tools, as well as some useful web developer extensions that are available. The idea is not to explain how to use these tools and extensions, but to make you aware that such tools are out there and what their basic purposes are. It is up to you to explore whichever one of these tools you may choose to use.
You can view the presentation here on my website. I hope that you find the presentation of some use.
Update (08/31/05): I have started a thread at MozillaZine for any feedback on the subject. Please post all comments and/or suggestions there.
Update 2 (09/06/05): For an additional perspective to the "Rapid Web Development and Testing with Mozilla Firefox" presentation Fini Alring has written a short article about the same subject.
Note: The presentation was created using Eric Meyer's S5 (A Simple Standards-Based Slide Show System) slide show format. Further information on how to design and use this format can be found at the link. The presentation is licensed under the Creative Commons licence: Attribution – No Commercial – Share Alike.